SCANDAL. Gosh. This may require some context, and I'm a little overexcited, so bear with me for a moment. Do any of you remember
Truffle the Cat
? For those of you who don't and are too lazy to follow the link, a quick summary. Somerfield, a chain of small supermarkets, puts out a monthly magazine. This magazine features a regular interview with the pet of a reader (typically a dog or a cat, but on occasion a hamster, rabbit or other more unusual animal). This monthly interview is conducted by Truffle. This is Truffle:
For several months last year, the interviews stopped, but I wrote in and complained and Truffle returned "by popular demand", which obviously was my personal triumph for 2008 and meant our household could go back to its monthly live readthroughs of Truffle's latest adventure.
Truffle—whose sex has never been revealed—is a lascivious creature who tries to seduce both dogs and cats, though (s)he is typically less taken with other animals. This has been even more distinct since Truffle's return from exile. Recent issues typify these tendencies, well past the point of deniability...
Extract from Truffle's interview with Tara, a tiny and pert-eared dog, showing Truffle's predatory side:
Tara:
My mum says I am the perfect companion — friendly to a fault!
Truffle:
Well, I myself am on the lookout for a new companion...
Tara:
Oh dear. Well, I'm very busy being vigilant at home, so I'd better be going.
Extract from Truffle's interview with Foxie, a ferrett, showing Truffle's bias against animals that are not cats or dogs:
Foxie:
But I like to play too — I love chewing on rubber.
Truffle:
Can't say I see the attraction in that myself.
Foxie:
Oh you really should try it some time.
Truffle:
I might give it a miss, if that's all right with you.
(You'll have to trust me when I tell you that Truffle would pretty clearly have jumped on this, or any, offer if it had been extended by a cat or a dog - Truffle's tastes are wide-ranging and his/her advances are if anything only inflamed by the revelation that a young labrador is not very well house-trained, for example.)
So, right, that's got you more or less up-to-speed. The main points are:
1. Truffle is a cat who interviews pets in a national magazine handed out at supermarkets.
2. Truffle's biological sex and gender identity have never been revealed.
3. It has been increasingly impossible to argue that Truffle's lascivious ways are not present in the text.
4. These things please me, and also please various housemates, ex-housemates and tolerant visitors but particularly
kerrypolka
and
the_alchemist
And then this month:
I promise this is verbatim - I'll add a photo later. Truffle is interviewing a wide solemn cat named Humphrey, a member of the Ward-Corderoy family in Kent.
Truffle:
Well hello. You're a handsome devil. What's your name?
Humphrey:
I'm Humphrey. Good to meet you, sir.
Truffle:
Likewise. You look like a stand-up sort of chap...
Humphrey:
I am my family's number one security cat.
Truffle:
Oh, a mature beast?
Humphrey:
Well I'm only two, but I'm very sensible.
Truffle:
Excellent, I like a cat who keeps his nose clean.
Humphrey:
I am very well behaved. I do like cuddles though.
Truffle:
Well I suppose there's always room for a cuddle.
Humphrey:
And I like presents.
Truffle:
Oh my. You're not the cat you seemed, Humphrey...
EDIT
: This is Humphrey: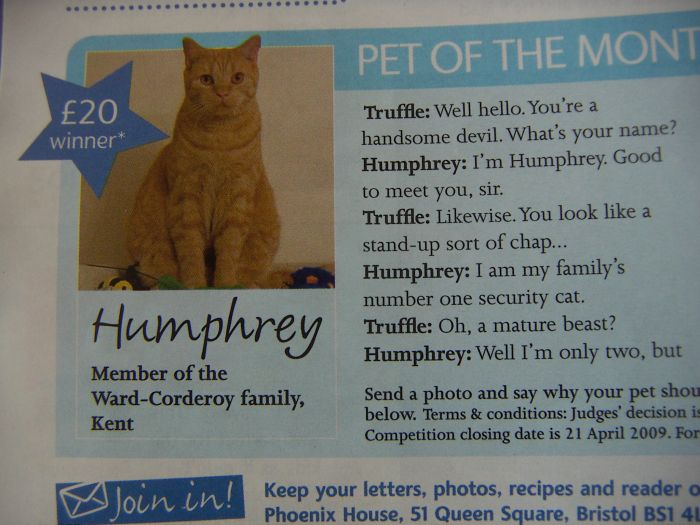 </a>